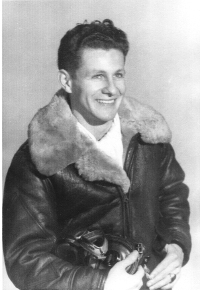 Today my father died. It wasn't unexpected, he'd been ready for years, and we're fortunate that his final demise was relatively quick and painless. He was an interesting guy: born in east Colorado at the edge of the prairie, he grew up with wide open spaces, even spending time as a cowboy ("stupidest job in the world" he used to say, "hard work, low pay, and no girls").
His dad had a bank that was wiped out by the Depression. My grandfather continued to work until he paid back every single person who's money he'd lost before he again started settling his own financial future, and this had a great impression on my dad.
Named for his dad, he shared his Dad's preference for being called by his middle name, Nives (pronounced Neeves). It's become a family tradition for middle names, shared by me and my first-born son. May it continue.
He had an amazing talent for building and fixing things. He used to build radios and trade them for things like cars. He was a good story-teller, and from what I heard it's amazing he managed to survive to an age where his youthful temper mellowed and he was able to settle down and have a family. When I knew him he had remarkable patience, certainly with machinery.
He never finished college, but spent time in the war in the Navy (the picture is from his days serving as a tail-gunner in a dive-bomber, the duty he was required to have to balance his time in then-secret radar). After the war he visited his sister in Southern California, and ended up working for Northrop Aircraft for 32 years until he retired.
He migrated to facilities because he knew every sort of engineering: electrical, hydraulic, civil, you name it he knew how it worked and how to plan it, build it, maintain it, and dismantle it. He would stand up to contractors, employees, even management when he was right, and convince them to do it his way.
He avoided management as long as he could; they finally promoted him while he was on vacation, and he ended up with responsibility for the entire mile-long plant in Hawthorne. I hadn't known him as a leader, but while he had no patience with fools, he was blind to color and background and his employees from Hungarians to Burmese were fiercely loyal. I learned from the notes from his retirement party that he was relentless in ensuring there was justification for requests for facilities services. I got a chuckle from this note: "people learned to disagree with him one way, with respect" (the "one way" was underlined by hand).
After retirement (he left early, when the job wasn't fun anymore), he traveled the world with my mom. They were quite humble and frugal throughout their lives, and rode in local buses and stayed in the cheapest accommodations in the most interesting places, with new stocks of stories to tell such as camping in tents with lions padding around outside(!).
They greatly valued education; really the only reason to be excused from the dinner table in the middle of the meal was to go look up something in the encyclopedia or the dictionary. We knew we had to try our hardest, but they were happy with whatever the outcome of that was.
When they weren't traveling he volunteered time doing what he'd always done for almost anyone, fixing things, particularly as a handyman for a local shelter. Tragically, a late diagnosis and botched surgery for Dupuytren's cost him the use of his hands, and brought to a close his one real passion in life. Subsequent persistent pain and loss of hearing also contributed to his lack of enthusiasm in his last years. Yet he still welcomed a drink, a laugh, and beamed at the sight of his grandkids.
I was always impressed that he maintained his idealism throughout his life, caring about doing the right thing rather than the expedient thing. He was security-oriented, and passed up many chances to do better financially to ensure we were never without food and shelter. He had his flaws, but he was a very good man overall, and I was proud to call him "Dad". Rest in Peace.