This post is late, as my life has been a little less reflective, and a little more filled with some mundane issues.  There're some changes here around the Quinnstitute, and they take bandwidth.  For a small update on these mundanities with some lessons: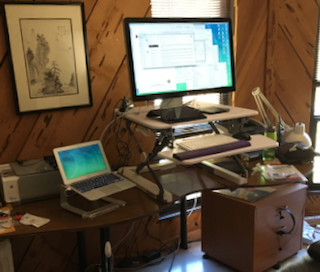 First, I moved office from the side of the house back to the front. My son had occupied it, but he's settled into an apartment for college, and I prefer the view out to the street (to keep an eye on the neighborhood). Of course, this entailed some changes:
My ergonomic chair stopped working, and it took several days to a) find out someone who'd repair it, b) get it there, wait for it to get fixed, and get it back.  It's worth it (a lot less than replacing) and ergonomics is important.
Speaking of which, I also now could get a standup desk, or in my case one of those convertible desks that lets you raise and lower your workspace. I've been wanting one since the research has come out on the problems with sitting.  We'd previously constructed a custom desktop (with legs from Ikea!), for the odd shaped room, so it was desirable to just put it on top. So far, so good. Strongly recommended.
Also bought a used bookshelf (rather than move the one from the old office).  Real wood, real heavy.  Used those 'forearm forklift' straps to get it in. They work!  And, this being earthquake country, had to strap it to the wall. Still to come: filling with books.
At the same time, fed up with  all  the companies that provide internet and cable television, we decided to change. (We changed mobile providers back in January.)  As I noted previously, companies use policies to their advantage. One of the approaches is that they sell you a two year package, but then there's no notification that the time's up and the rate jumps up. And you can't find just a low rate provider (I don't even mind if it's higher than the bonus deal). Everyone uses this practice. Sigh.
As I said, I can't find anyone better, but just decided to change. That involved conversations, and research, and installation time, and turning off the old systems.  At least we're getting a) a lower rate, b) nicer DVR, and c) faster internet.  For the time being. While the new provider promised to ping me before the plan runs out, the old provider says they can't. See what I mean?  Regardless, I've got a trigger before it expires to sign up anew. Or change again.  That's the lesson on this one.
And of course there are some conversations about some upcoming presentations. I was away last week presenting, and have one coming up next month (ATD China Summit, if you're near Shanghai say hello) and several in November at AECT  in Jacksonville.  You've seen some of the AI reflections, more likely to come on the new topics.
And there's been some background work. Reading a couple of books, and working on two projects. Stay tuned for a couple of new things early next year.
The lesson, of course, is trying to find time to reflect while you're executing on mundanities is more challenging, but still a valuable investment.  I fight to make time, I hope you do too!