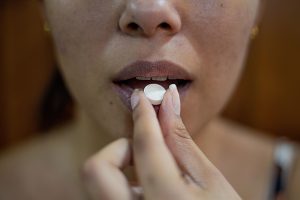 I was thinking about what too often we see as elearning. That is, the usual content dump and knowledge test. There's good reason to believe that it isn't effective. So, why are we seeing it continue? Is it a placebo effect?
I tend to view this as a superstition. That is, the belief that information presentation will lead to behavior change is held implicitly. I think it originates from a legacy perspective that we're logical, and therefore new information will yield impact. (Not.) Regardless, it exists.
I was inclined to wonder if, really, it's a placebo. That is, doing something with a hope that things change, but the onus is on the individual, not the intervention. There's not going to be any actual effect, but it makes people feel better. Of course, the role is different here; the placebo makes the doctor feel better! (Or the health system? I'm muddling my metaphor…:)
It may not be that in practice, of course. There is a 'faith' that "if we build it, it is good". So, biz units can ask for a course, and get one. They've provided content and access to SMEs. However, they push back when asked "what's the actual problem", let alone asked for measures.  It's like they think the job can be done with information. They are happy with the appearance of a solution, because it's easy, and no one's checking.
We, of course, have to change this perception. If we continue to let folks believe they can give us content and we'll deliver meaningful change, shame on us. Of course they don't care about the measures, and they want things to be easy. We have to, however.  It may as well be a placebo effect, because the ultimate impact is a likely null as sugar pills, unless the patient wants to change. It's probably not a great metaphor, but somehow it still seems apt. Thoughts?