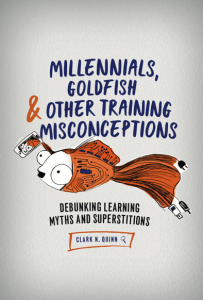 On twitter the other day, I was asked how I could on one hand rail against myths, and on the other work with orgs who either sell or promote DiSC and MBTI. The problem, it appears, was a perception that I'm deeply involved with orgs that perpetuate the problem. I thought I'd try to clarify all this, and make sense of myths, publishers and confusion.
The dialog started as a reaction to an article I pointed to on twitter. This article made what I thought was a pretty good case against tools like MBTI and DiSC. And that matters. The arguments raised in the article were legitimate, and even didn't go far enough. For instance, MBTI is based on Jungian archetypes, which Jung just made up!   So, one question raised is why ask practitioners to change, why aren't we challenging the businesses?
For one response, I don't call out the practitioners. I sympathize!   In the myths book, I deliberately addressed the appeal before pointing out it's wrong (and, importantly, point to better alternatives). Instead, I rail against the tools. That, to me, is where the problem lies, and implicitly indicts the vendors. Now, the org that now owns DiSC was my first publisher. However, they bought it after I was locked into a contract with them. And when I heard, I complained about the choice to them. But they didn't consult me on it ;).   And yes, they published my first 3.5 books. I dissociated from them on other reasons, but I'm no longer engaged.
Was there any relationship between DiSC and what I wrote? I was able to complain about learning styles in my fourth book with them. It's a huge company, with many different divisions. There's no provision to not say things that are contrary to their business interests. They publish and sell what they can sell. They can publish what's right, and sell stuff that's not. That's their confusion, I reckon, not mine.
I'm now publishing with another org, who had, in the past, had learning styles in their competency model. When I found out, I asked and was told it was not in the latest version of the model. They also do make money selling exhibit space to folks with these tools. Note that the folks I work with may not agree, but also have to work in their part of the org and have little contact with the other entity (that makes much money). Yet, to their credit, they asked me to write the myths book. In fact, after I gave a myths talk to launch the the book, an anonymous audience member complained that they shouldn't have speakers that disparage vendor products. And, they've continued to have me write and speak. Again, I suggest that's their issue, not mine. I'm not responsible for that relationship between myths, publishers, and confusion.
And, yes, there are voices that cry out  for the tools. For instance a TD article claimed that such tools are popular. (Under the guise of saying they're effective.) Which is problematic. Asking folks for their assessments of tools they've invested in introduces a clear source of bias. We know that people's judgments of effectiveness may not match reality. So it's a problem. But not one I'm in a position to change (though I quietly try).   It does muddy the water. Which, to me, speaks even more to talk about how to review science and what science already says.
I try to be a consistent voice for science in our practice. My publisher gave me a forum to speak that to an audience that needs to hear the message. There are others who echo that voice (see Mythbusters here). I'd welcome having the opportunity to address those who are making the decisions to buy these tools. I don't have reliable access (I welcome any assistance ;). Instead, now they can give the book to those leaders to bolster the resistance.
So, are my publisher activities part of the business end, or the education end? Do you really concern yourselves with my previous relationship or current publisher? I note that it's pretty much a hands-off relationship: "if you propose a valuable offering, we'll publish it."
I'm saying "here's what Quinnovation has to say" and the orgs are endorsing it. Not the other way around. Is that accurate? Do you see that as a conflict? I'm perfectly willing to be wrong, and if so I welcome ideas how to be more clear about what and how it's wrong.
I think I'm fighting a good fight, for the right reasons, and pretty much in the right way. But it's not my perspective that matters. So I ask you, am I off the mark here? Am I helping or hurting the issues in myths, publishers, and confusion?