I'm not much of a video person (though I do watch TV, professional obligation ;).
I seldom have the time when I'm online, and would rather have a 'readers digest condensed ™' version to read when I'm on the go. However, I do recognize that capturing a presentation can be appropriate for the right audience. Say, for example, when the audience is above the novice level, and when contextualization is important (this is a model that shows my beliefs about when/how to use media).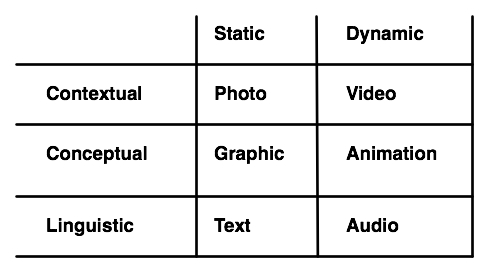 Before the eLearning Guild conference, I was pinged by Veotag, a video tagging company. They were kind enough to buy me a beer when I stopped by and asked some questions (the things I'll do for beer…). Basically, it's a web service where you can upload and manually tag videos so that they can be hosted and you can index in to any particular place. I know Avaltus Learning does this as well, though I believe they do it for you, and charge accordingly.
I tried viewing a sample video, in this case of Guy Kawasaki interviewing Steve Wozniak, and it worked just fine, being able to jump around wasn't a problem, and I could see that this could be a learning solution.
However, when I went to their site, I was dismayed to see that it requires Windows to do the tagging (not for viewing, I could see Woz just fine on my Mac with Firefox). In this day and age I find it hard to justify having a solution that depends on a particular platform. Yes, the corporate world is still largely tied to Microsoft, so this likely isn't a deal breaker for most folks. But for me, while I think there's definitely a role for capturing video and making it navigable, I don't think this is a solution I'm rapt over.