I've mentioned before how I got into this field, and back then what we were doing was creating educational computer games. Playing the original Colossal Cave adventure, I realized how we could put meaningful skills into these environments (not really what we were doing at DesignWare). Still, I thought of them as games.
Later, when I built a game requiring analogical reasoning (based upon my PhD thesis) and then with Quest, and more, I continued to think of them as games. When I finally wrote about how to design them, I used the phrase Simulation Games in the title, partly at the prodding of my publisher. So it's been interesting to see the recent struggles with naming that are going on.
Ben Sawyer, moderator of the Serious Games discussion list, recently had a post discussing the various nuances of the term 'serious games'. He differentiated his interpretation from what the eLearning Guild has called Immersive Learning Simulations (ILS). Interesting, the Guild chose that name when they received serious feedback (1784 respondents represented here) from their great research tool that the phrase 'game' was seriously problematic: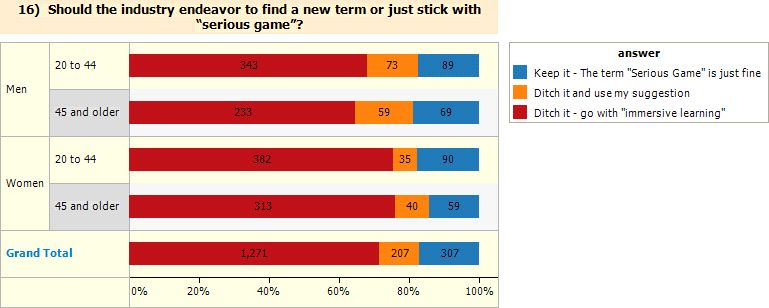 As you can see, there was a strong feeling that the name had to change. On the other hand, there was speculation that the reason the ILS symposium at the upcoming DevLearn conference was cancelled due to low signups may well be because of the label. So, what's going on?
It is true that some of us are focused on the corporate space with these, while others are almost definitely not interested in that space, instead being in, for the lack of a better term, the political/social action space. I like to think that my design principles work for either, but Ben's message made clear that using games to ease kids pain, to exercise, etc, don't qualify in his mind. I don't quite agree, as my approach starts with an objective and provides systematic steps to achieve that objective, but there are things that wouldn't qualify.
The issue for labeling in corporate learning is that some companies are concerned enough (concerned being a diplomatic euphemism) to actually block the term 'game' from any search through their firewall (!). As I've said before, a simulation is just a model, when you put the simulation in a particular state and ask the learner to take it to a goal state it's a scenario, and when you tune that experience until engagement is achieved it's a game. Clark Aldrich says it slightly differently, putting ILS at the intersection (think 'Venn Diagram', I can't find a copy on his site) of Simulation, Games, and Pedagogy (I agree if you essentially equate the word 'games' with 'engagement' :).
Regardless, if you're not at least considering deeply immersive practice through scenarios (though the one connotation that scenarios mean branching is too limited), you're missing a powerful learning experience. More, there are very good reasons to think that tuning the experience, at least to some degree, makes the learning even more powerful. Finally, as I've said before, they're not as expensive as you might fear.
So, regardless of name, consider the outcome, and make your learning practice as powerful as possible!