Today I'm at the eLearning Guild's Annual Gathering. Yesterday I was part of two different pre-conference symposiums, one on Immersive Learning Simulations (read: serious games) and Mobile Learning, and today we started off with a keynote. I mind-mapped it, which I sometimes do, and here's the result: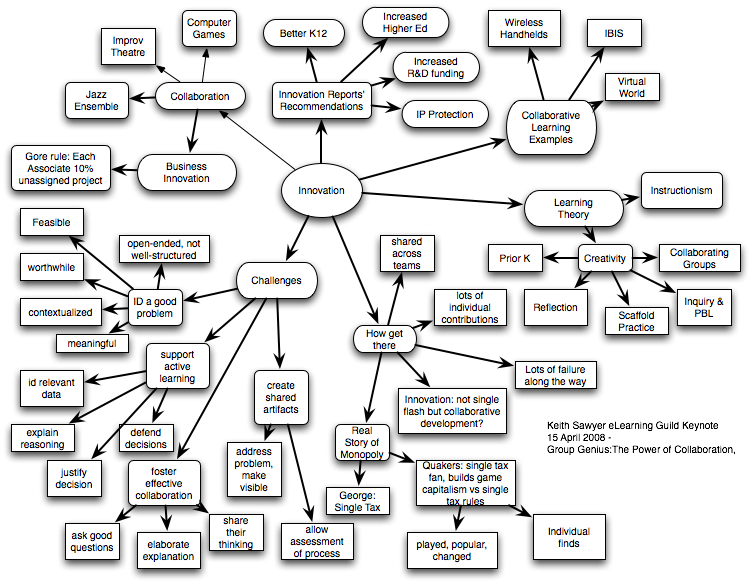 Overall, I confess I was a wee bit underwhelmed, as some of the talk was that a constructivist approach fostered more innovative folks. Well, yeah. However, there were some good points, and he told a great story about the real history of Monopoly.
The main good point was debunking the myth that innovation is individual insight, and his research on creativity shows how teams iterate over time to create new ideas. He also pointed out a couple of ways to facilitate creativity, which included building layouts (pointing to his book, ahem), and re-assigning staff as a systematic organizational policy.
There were also some good details about making effective learning (see the subtrees from the 'challenges' node in the mind map, above), including identifying a relevant problem, supporting active learning, fostering effective collaboration, and creating shared artifacts.   Most specifically, the details underneath these were more depth than you often get.
Of course, the question is whether the talk was relevant for the general audience, not me (after all, I too have studied creativity, and the learning sciences). My informal poll seemed to support my view, but the eLearning Guild is making some good efforts at linking in social tools, so there should be lots of reactions being tracked. Did you see his presentation? If so, what did you think?