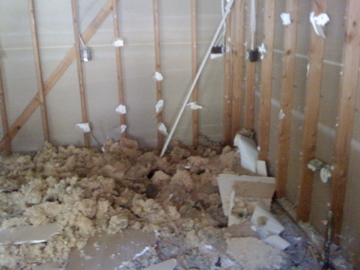 All morning, a crew has been systematically demolishing our kitchen (one learning: it's hard to concentrate with regular sounds of destruction in close proximity).   This is as planned.   We've wanted a new kitchen since we had experience with the one that came with the house.   It was on our 'todo' list (heck, it was on my wife's *can't wait* list), but hadn't risen to the top until the old refrigerator died.   The space in the cabinets for the old fridge wouldn't fit any new model, so we were forced into kitchen renovation.   We got a new fridge standing elsewhere in the kitchen, and started planning the project.   By we, I mean my better half. She took this on with zeal, because she's really wanted it.
One of the first things was finding a kitchen designer.   Now, when we were looking to buy our first house, we talked to lots of realtors.   They'd *listen*, and then show us something completely unlike what we had set as constraints.   It was aggravating!   When we moved back to the US and were looking for a new home, we were connected with a realtor who did listen, and were extremely grateful.   A match is everything. So she was thrilled when she found a designer who listened, looked, asked questions, and asked her/us to consider tradeoffs.   I'm learning that the match between customer and contractor is as important as the match between contractor and task.   Which applies to me and my business as well.
She did a lot of leg work (thankfully), but involved me in crucial decisions.     We're both researchers, the type who subscribe to and read Consumer Reports, with complementary strengths in concept and detail.   She got the industrial-strength range she wanted by testing with paper cut-outs of her pans to find the smallest that would accommodate her cooking. I like to cook too, but not as elaborately (I'm a fan of ethnic one-pot meals, e.g. jambalaya), and would've been happier with less, but her work convinced me.   (I'm reminded of when Don Norman mocked up his new kitchen in cardboard and practiced workflow before settling on a design.)   I managed to secure a reddish wood stain and a dark green countertop, and a light tile that will complement both.   We spent quite a bit of time playing with dishwashers, range hoods, as well as ranges.
The planning is paying off, but there are always more details.   Last night we worked late (we worked all day, and she worked harder than me) clearing out our stuff from the kitchen, as it was more work than we'd expected.   We also were getting things organized for six weeks of eating microwaved meals on disposable tableware. It's just too hard to figure out how to do dishes in bathroom sinks, bathtub, and toilet.   At least I got paper and not foam. There's more, as we're losing two rooms of the house (not only the kitchen, but another to accommodate appliances/cabinets as they wait for installation), so it's relocating things (putting up new shelves, for instance), moving computers around, etc.   It doesn't help that we're both pack rats (every home needs one thrower-outer) and the house doesn't have enough storage space.   My office is quite, er, cosy right now!
Still, we weren't quite prepared for the interruption in our lives. It's only day one, so this first heavy demolition is promised to pass, but there've been some adapation on both parts.   They've found out that my wife's a wee bit protective of the front yard landscaping she's spent weeks on installing, and shouldn't leave torn out windows on plants, while I've discovered that you can put zippers on plastic sheeting!
It'll be a learning experience for the whole family (the kids left this morning for school before things really got going), and will require some adaptation and flexibility.   We're looking forward to cooking our first Thanksgiving (US, happy holidays to my Canadian compatriots!) in our new kitchen (fingers crossed).   However, it's also fascinating, and hopefully we won't come up with too many surprises (tho' some are also expected).   It's a catalyst for lots of changes (new sofa, entry way lighting will be precipitated as well).   I'll try not to bore you with any but the important learnings, but it will be occupying a bit of my mindspace for the next six weeks or so.   With planning, flexibility, and teamwork, we expect to get through this.   Fingers crossed!