So I've been playing with rethinking my Performance Ecosystem conceptualization and visualization.   The original had very discrete components, and an almost linear path, and that doesn't quite convey the reality of how things are tied together. I believe it's useful to help people see the components, but it doesn't capture the goal of an integrated system.
I've been wrestling with my diagramming application (OmniGraffle) to rethink it.   My   notion is that systems, e.g. content/knowledge management/learning management systems underpin the learnscape, and that on top exist formal learning, performance support like job aids organized into portals, and social media.   Mobile is a layer that floats on top, making contextually accessible the capabilities assembled below.   It's not perfect, but it's an evolving concept (perpetual beta, right/).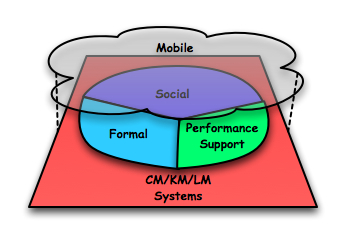 So here's my current conception.   It took me a long time to create the circle with different components!   First I had to discover that there were tools to create freeform shapes, and then work to get them to articulate, but I like the kind of 'rough' feel of it (appropriate for it's stage).
It also captures the conceptual relationships as spatial relationships (my principle for diagram creation).   At least for me.   So here's the question: does it make sense for you?   Does it help you perceive what I'm talking about, or is it too a) coarse, b) confusing, or c) some other problem?   I welcome your feedback!