Charles Jennings makes a brilliant observation about how Learning & Development folks are taking the wrong path in his post: When the Game's Up. He points out that L&D practitioners are focused on Instructor Led Training, and:
ILT may be helpful for some change management and big-picture 'concept' development, but it is demonstrably the least effective and certainly the least efficient approach for most learning that's required.
In short, we're just not doing what we need to be doing.   I was revisting my previous thoughts on slow learning and distributed learning, and I realize we're missing a major perspective.   We seem to have two extremes on the continuum: the 'event' or informal learning.   There's more.
I had a tour of Q2Learning's environment today, courtesy of John Darling, and while I'm not conducting a thorough point by point evaluation, one element struck me as relevant.   Their platform's 'DNA' came from social learnng, but their formal model (client driven) is based upon proficiency, and if not mandating, certainly enables what they call a 'proficiency' approach.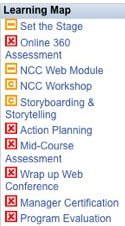 What I like about it is it takes a longer term view of skills. The sample he showed (and of course I realize it's presented in the best light) was a learning map for a course, but with lots of components spread out over time (sample map shown).   There's a priori assessment, content, activities with managers, etc.; a mix of activity, practice, reflection, just the sort of model we should be designing.   We know spaced practice matters, with reactivation, reflection, etc. It's also valuable to go   back to the workplace, and then check-in later to see how things are going.   It's a fuller picture of what learning's about.
John mentioned some need formal features, such as the ability to assign journals as an activity, and similarly assign posting to a discussion board and then commenting on other posts (and tracking this!).   Given that these were two of three activities I used in my own online course (and mentioned here), I asked about the third activity: assigning group work (e.g. collaborating through a wiki) and handling the submission.   It wasn't there, but could be added as another of their templates of 'activities'.
The important thing, to me, is the point that a system to support formal learning should be able to link together and track a sequence of activities that develop a person over time, not just through an 'event' perspective.   Integrating the same social tools from the informal side also provides hope that there can be an elegant segue from the formal to the informal.
We agreed that one of the problems on the informal side is assuming that people are skilled at self-learning (or even group learning, I'll add), and that we shouldn't take it for granted.
All told, I think it's an important different perspective on learning to think about developing people along a continuum, not a 'spray and pray' approach to learning.   Now, to only get the L&D function to start looking beyond their zone of comfort, and into the area of relevance.   Otherwise, we'd be better off, as Charles suggests, taking the training money and letting them spend it at the pub, at least reducing their stress and developing some morale!