In trialing a mind-mapping tool on my iPhone, I started mapping the 'performance ecosystem' space. I carried it over to my desktop tool (not literally, the free version doesn't seem to export), and started elaborating.   I got to this point, and think it's not too bad a top-level cut, with the caveats that a) each of those nodes unpacks even further, let alone each leaf, and b) that I haven't even tried to capture the cross links, e.g. between performance support and mobile, between mobile and content model, etc.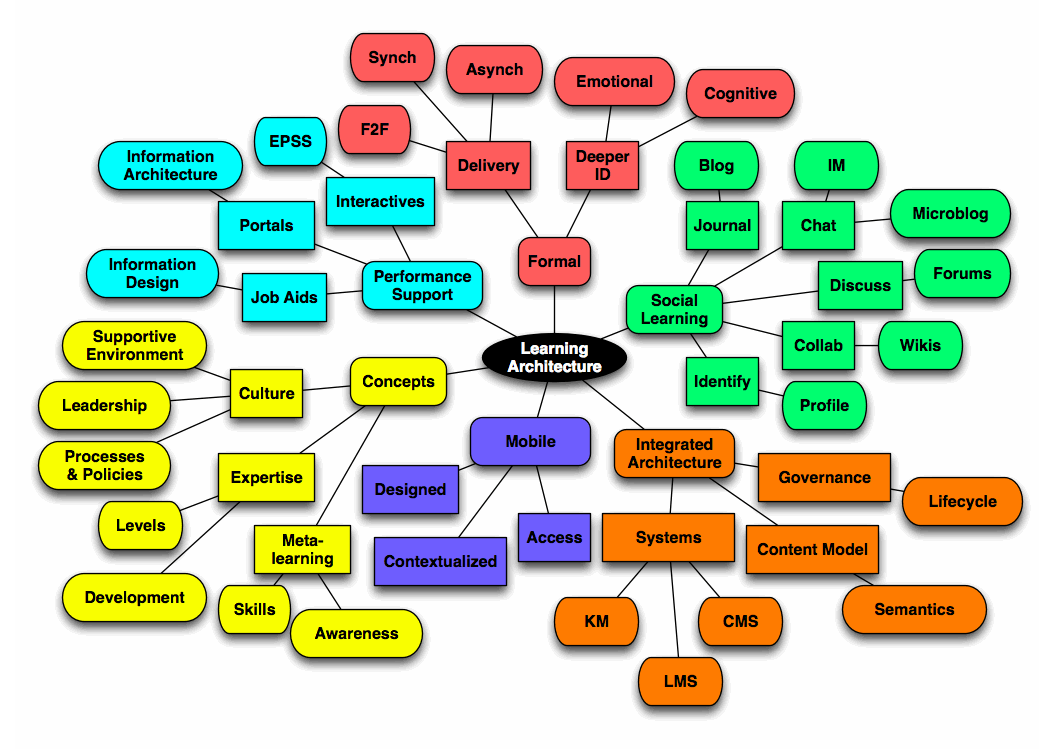 Here's the same as an outline (ok, Stephen? :):
Learning Architecture
❑       Performance Support
▼❑       Job Aids
•       ❑       Information Design
▼❑       Portals
•       ❑       Information Architecture
▼❑       Interactives
•       ❑       EPSS
❑       Formal
▼❑       Delivery
•       ❑       F2F
•       ❑       Synch
•       ❑       Asynch
▼❑       Deeper ID
•       ❑       Emotional
•       ❑       Cognitive
❑       Social Learning
▼❑       Identify
•       ❑       Profile
▼❑       Chat
•       ❑       Microblog
•       ❑       IM
▼❑       Journal
•       ❑       Blog
▼❑       Discuss
•       ❑       Forums
▼❑       Collab
•       ❑       Wikis
❑       Integrated Architecture
▼❑       Content Model
•       ❑       Semantics
▼❑       Governance
•       ❑       Lifecycle
▼❑       Systems
•       ❑       KM
•       ❑       LMS
•       ❑       CMS
❑       Mobile
▼❑       Access
▼❑       Designed
▼❑       Contextualized
❑       Concepts
▼❑       Culture
•       ❑       Leadership
•       ❑       Processes & Policies
•       ❑       Supportive Environment
▼❑       Expertise
•       ❑       Levels
•       ❑       Development
▼❑       Meta-learning
•       ❑       Skills
•       ❑       Awareness
Definitely a 'learning out loud' work-in-progress.   Feedback welcome!