At the just concluded ASTD International Conference and Exhibition, on exhibit were, finally, two instances of something that should've been obvious. And I'm not alone in having waited.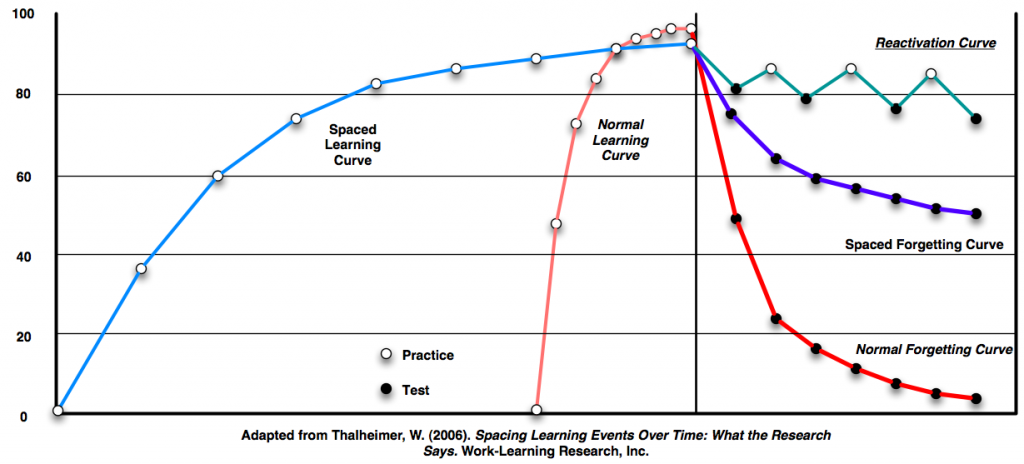 Several years ago, Dr. Will Thalheimer was touting a 'learning follow-on' solution, a mechanism to continue to reactivate knowledge after a learning experience. He's talked about the spacing effect (even providing the basis for a diagram in Designing mLearning), drawing upon his experience as one of our best proponents of evidence-based learning design. We know that reactivation leads to better outcomes, whether seeing a re-representation of the concept, a new example (ideally in another context), and most usefully, having more practice. I'm not aware of how the solution he was touting at the time, but as we really haven't seen any significant awareness raising, I'm not optimistic.
However, at the conference were two separate examples of such systems. They worked differently, but that they exist at all is a positive outcome. Both used diagrams (e.g. Ebbinghaus forgetting curve) to show the effects of memory over time, and it's apt that the problem is real. If we just use the traditional event model, things are likely to be gone a few days later if it's not immediately put into action. That doesn't characterize many of our learning outcomes.
The solutions were different, of course. One used mobile technology to provide reminders and access to content. The other used the web. Both basically provided the same opportunity. I didn't evaluate the relative costs, ease of integration, etc, but having such capability is great. It's something that folks could arrange for themselves, but as yet I haven't really seen it, at least not in a systematic way.
They still separate solutions, not integrated, but it's reason for hope. It's surprising no one's baked it into their LMS, but there you go. At least we're seeing the beginning of awareness, and hopefully we'll get more.