A number of years ago, I discussed a useful model that talks about how we solve problems in the world.  In the piece, I talked about how when we can't act, we try to find the answer (and if we do, we go back into action).  Then if we can't find the answer, we have to go into a problem-solving mode: we need to do research, experiment, and generally discover the solution. If we find a solution we should update the resources to help other people find the answer rather than having to rediscover it.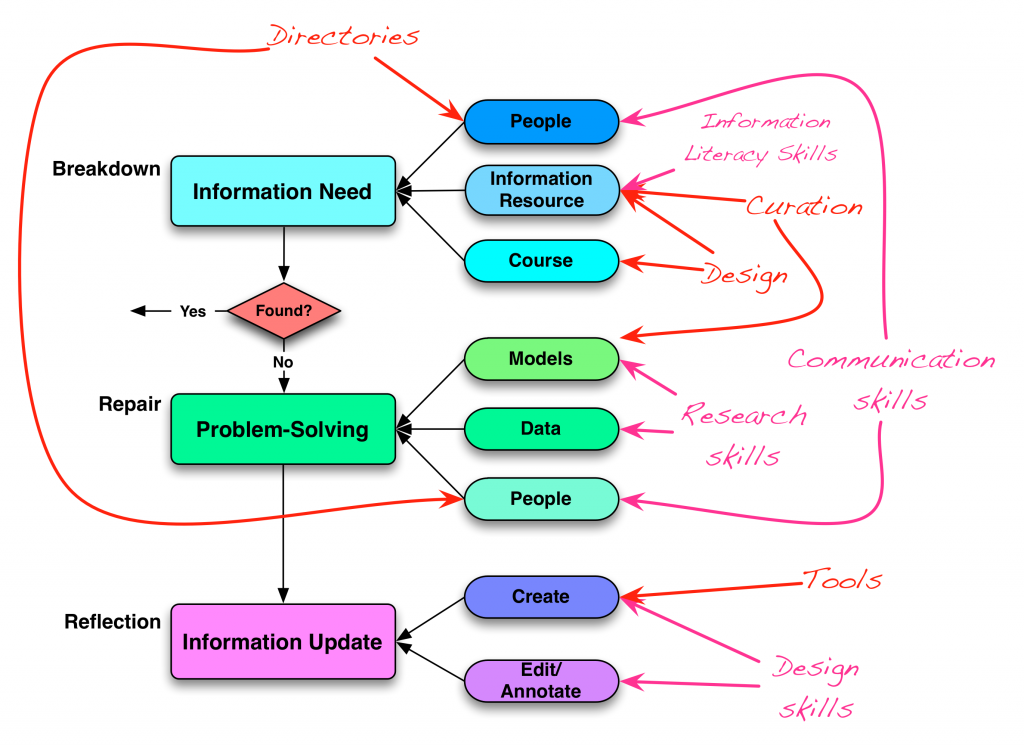 I was thinking about this in terms of the ways in which L&D can support this process, and started noting the ways in which we can help  besides courses.  I broke it up into two different forms of support: direct, and supporting the associated skills.
When we have an information need, we might need directories to people with various expertise (associated with Communities of Practice, presumably).  We might design or curate useful information resources (how-to videos, job aids), and occasionally, when a significant skill shift is needed, we might design courses.
There are associated skills here, so communicating successfully with the experts who have the answer, or information literacy to develop the performer's ability to find the answers themselves.
If the answer doesn't already exist, then we might support learner with tools about problem solving, and research and problem-solving skills, as well as communication skills again to deal successfully with collaborators.
Finally, when the answer is found,  might have tools to create resources and skills to edit existing resources.
First, this is by no means a complete list, as even in writing this I thought of design to create resources to support problem-solving, and information architecture to go along with information resources, and…you get the idea. The point is two-fold: we need to recognize how people actually act in the world, and we need to then find ways to support all the points of need, not just the ones we can design a course for.  There are  lots of opportunities!