For many of the past 10 years, I've gone walkabout with some friends into the mountains to, well, many things.  It's fun, it's thoughtful, it's invigorating, and it is also hard work.  I'll paint a picture to contextualize the picture.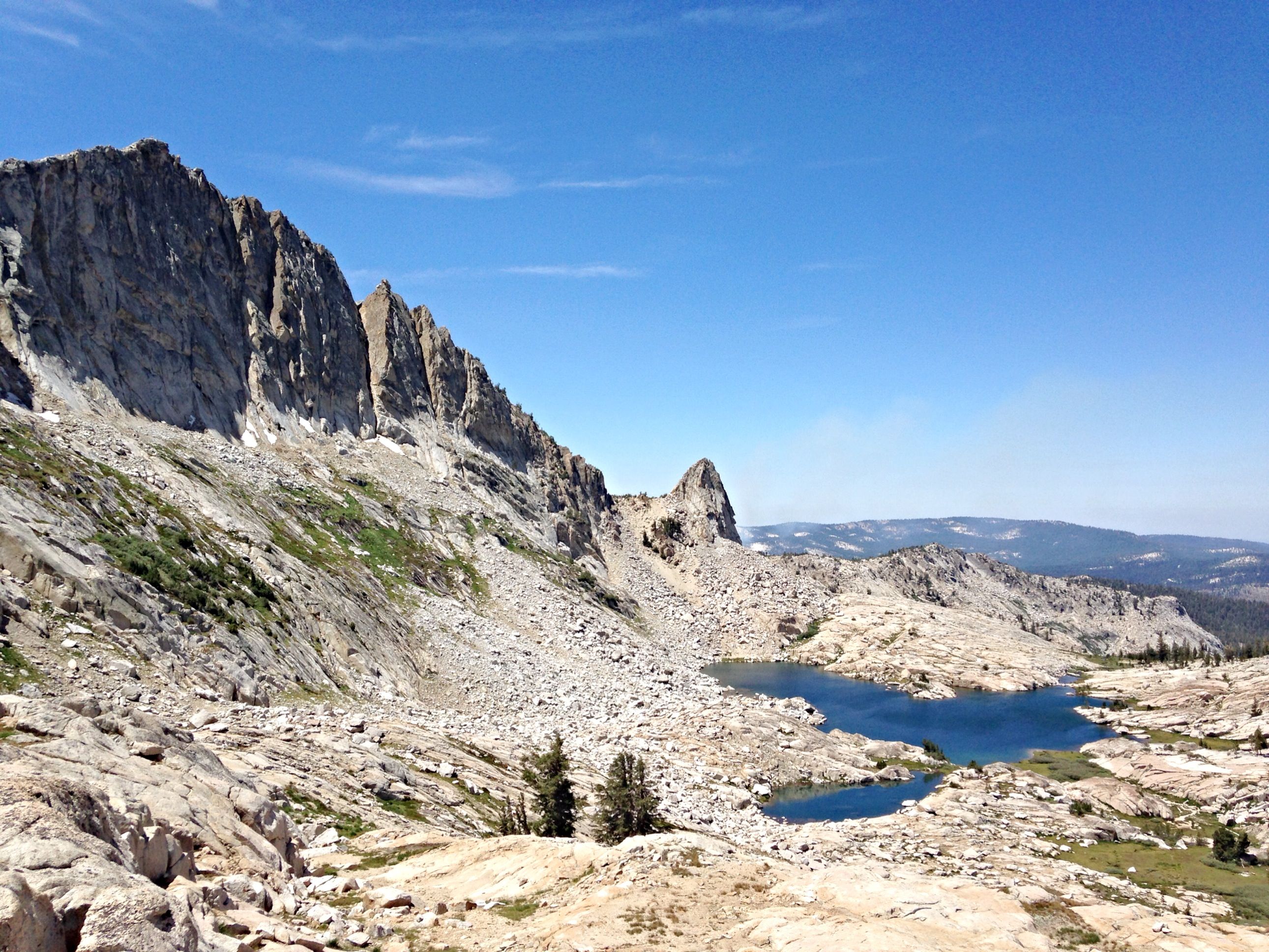 With two friends (one I've known for 30+ years), we  drove  up into the hills, spent the night in a tent cabin, and the next morning parked and started hiking. We followed the trail up to May Lake, which is already a gorgeous high Sierra lake just above timberline. From there, my two friends had  got adventurous.
So, we went around the lake and took off cross country up the ridge.  This was up rock, as we were above timberline, and off trail so it was where we figured we could go.
At the top of the ridge, we had the view you see in the picture, and we headed down to the left to get to the lake. We camped in some stunted trees off to the right of the lake out of the picture.  We of course had to carry our tents, stoves, water filters, sleeping bags, clothing, everything with us.
And I learned a valuable lesson. I packed in a flurry of trying to get other things done, and missed just a couple of things I should've brought, checked, etc. I ended up ok, but forgetting the sleep pad led to some discomfort.  I could've been in worse shape, though my friends would've helped out if I didn't have enough fuel.  If I'd  used the checklist my colleague created, I'd have been better off!
We day hiked the next day.  You can see small plumes of smoke in the background, as there was a 'management fire' going on at the time.  We got a blast for about 20 minutes or so, but it cleared up so I didn't have to panic. Right before nightfall, we saw some hovering against the wall of the ridge to the left (1000′ above us, and we were at 9000'+), and I feared that it might settle down overnight.
Indeed, we woke up the last morning in smoke, and hiked back out only to find out that May Lake, Tenaya Lake, and as far as we could tell all of Tuolomne Meadows was covered.  The gorgeous views were tarnished, but we feared that the fires were not those that were being managed, and indeed so we subsequently discovered.  My thoughts to those who are suffering.  Fortunately, we got out safe and sound.
The conversation we shared veered from philosophical discussions, personal details, and of course ridiculous humorous dialogs.  There were also periods of no discussion, merely contemplating and enjoying nature.  There's something restorative about being in the wild, with vistas, wildlife, and the sounds of wind and water.  You don't have to get out there  with the level of exertion and immersion we choose, but I believe there's something primal and necessary in getting away from the daily hustle and bustle regularly.
So, how do  you recharge?