In addition to yesterday's post about pedagogy, I also mentioned the need to get deeper on curriculum as well.  The notion is that we need to redefine curriculum as a way to get away from a content base, and start moving to an activity base.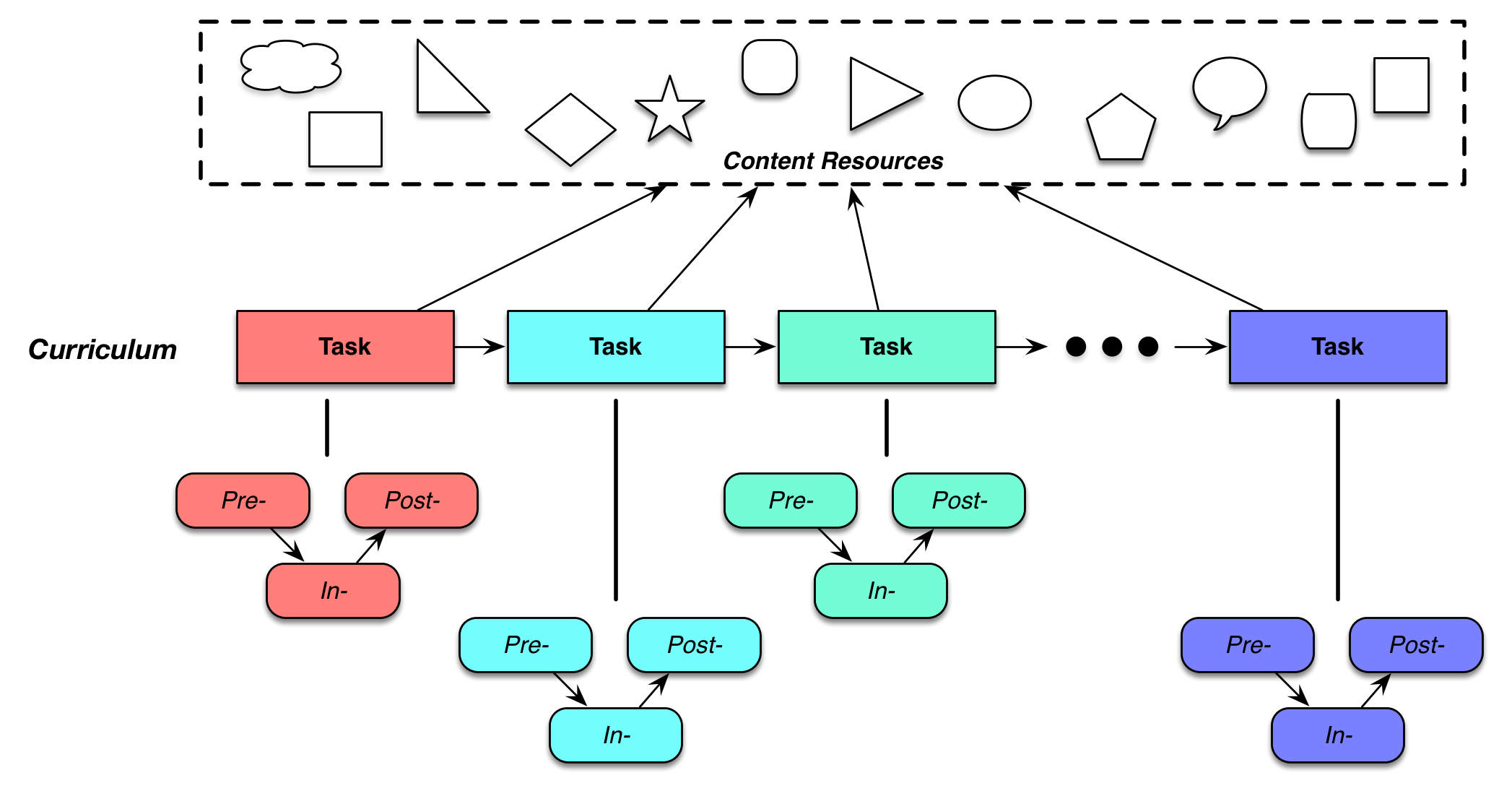 The focus is on creating a curriculum that has tasks at it's core, and these tasks are tasks  like the learner will be expected to be performing  in the world.  These tasks can be viewed as competencies that, if the learner possesses them, there is evidence that they are prepared to perform.
The goal is to choose tasks, with the final task likely being chosen  first and working backwards (as in Understanding By Design) to determine what needs to be done.  From each chosen 'task' will be a suite of activities that comprise the pre-, in-, and post-class activities, but here we are focusing on the overall curriculum before we get into the individual pedagogy.
Note that the content is subsequently chosen to support successful execution of the tasks, and is not presented to the learner but is, instead, made available to them at the time of the task.  The goal is to have them process the content in service of accomplishing the task, an approach more consonant with our cognitive architecture. We're more likely to remember information we've had to process rather than information we've just been presented with.  Information that a learner can recite is unlikely to be activated at a relevant time ("inert knowledge) unless it's been applied, and the focus should be on the application, not the recitation.
Again, this turns out to be  very much the approach of Roger Schank of  Socratic Arts as well, but emerged from my own thoughts and frustrations before I found out about the Story-Centered Curricula.  Of course, I referenced the Goal-Based Scenarios in my book on learning (game) design, but I hadn't been aware of his curricular processes at the time of this or my Reimagining rant pointed to above.
There're more details required to fully flesh out the process here. I reckon it'd be easier to do with an employer than faculty, but even with faculty, I reckon if you can get more than one in a room, focus on decisions, and help them understand the power of activity-focused learning, it'll work. Fingers crossed ;).