In the course of some work with a social business agency, was wondering how to represent the notion of facilitating continual innovation.  This representation emerged from my cogitations, and while it's not quite right, I thought I'd share it as part of Work Out Loud week.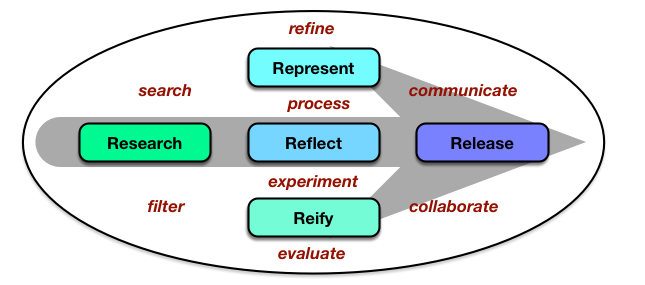 The core is the 5 R's: Researching the opportunities, processing your explorations by either Representing them or putting them into practice (Reify) and Reflecting on those, and then Releasing them.  And of course it's recursive: this is a  release of my representation of some ideas I've been researching, right?    This is very much based on Harold Jarche's Seek-Sense-Share model for Personal Knowledge Mastery (PKM). I'm trying to be concrete about different types of activities you might do in the Sense section as I think representations  such as diagrams are valuable but very different than active application via prototyping and testing.  (And yes, I'm really stretching to keep the alliteration of the R's.  I may have to abandon that. ;)
What was interesting to me was to think of the ways in which we can facilitate around those activities.  We shouldn't assume good research skills, and assist individuals in doing understanding what qualifies as good  searches for input and evaluating the hits, as well as  establishing and filtering existing information streams.
We can and should also  facilitate the representations of interpretations, whether informing properties of good diagrams,  prose, or other representation forms.  We can help make the processes of representation clear as well. Similarly, we can  develop understanding of useful experimentation approaches, and how to evaluate the results.
Finally, we can communicate the outcomes of our reflections, and collaborate on all these activities whether research, representation, reification (that R is a real stretch), and reflection.  As I'm doing here, soliciting feedback.
I do believe there's a role for L&D to look at these activities as well, and 'training' isn't the solution. Here the role is very much facilitation.   It's a different skill set, yet a fundamental contribution to the success of the organization. If you believe, like I do, that the increasing rate of change means innovation is the only sustainable differentiator for success, then this role is crucial and it's one I think L&D has the opportunity to take on.  Ok, those are my thoughts, what are yours?