I'll be giving an upcoming webinar where I make my case for defining microlearning.  And, as part of my usual wrestling with clarity, I created a diagram. I thought I'd share it with you.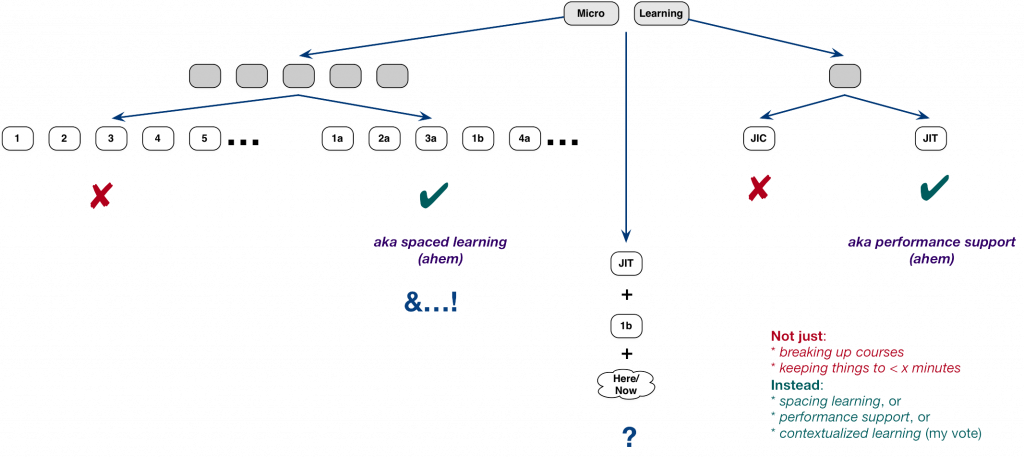 What, you want me to walk you through it? :)
Microlearning is a portmanteau (technical term:  mashup) of micro and learning. Thus, it implies small bits of learning.  Here I'm mapping it out in several ways.  I've previously argued that there are three main ways, but let's map the first two out. It's either
a series of objects contributing to a learning experience
a one-off object that creates learning
And there are problems with both. Too often, folks talk about breaking an existing course down into small chunks, and I suggest that won't work without some significant (!) effort.  Just breaking it up means something seen earlier can be forgotten, so you need to worry about knowledge atrophy and plan reactivation. And that's just spaced learning!
And I think it's unlikely that you can have a single object lead to any meaningful learning. However, such an object  can serve as support to succeed in the moment.  How-to videos, job aids, and the like all can be used to achieve an outcome.  And that's just performance support!
What I think is the real untapped opportunity that could (and I say should) capture the moniker would be contextualized learning. Layering on a bit of learning  because of when and where you are that develops you over time. It's combining the two, potentially, so you help someone in the moment but add in the bit that also makes it a learning experience.  There's much more to this, but that's the core idea.
My main issue here is that people are fast and loose with the term microlearning, and I'd like to make sure people are  either talking about spaced learning  or performance support (both good). And not talking about just breaking up a course into chunks that are nice to consume but not engineered to lead to retention and transfer (not so good).  Of course, better yet if we converge on contextualized learning!