In a meeting today, I was asked "how do you define engagement", and I found it an intriguing question. I don't know that I have a definition so much as steps to enhance it. Still, it made me think.
What engagement is not, let's be clear, is tarting content up. It's not just flashy visuals, stereotypes, and cute prose.  Those things add aesthetics (or, done poorly, undermine same), but that's not where to go.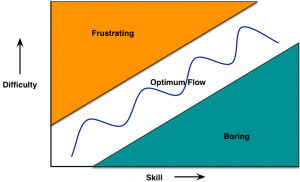 Instead, I'm looking for an experience that has certain characteristics. One way of looking at it is through the 'flow' phenomenon, with cognitive immersion at a level that finds the sweet spot between frustration and boring.  Similarly, for learning, it's the Zone of Proximal Development, between what you can do with one hand tied behind your back, and what you can't do no matter how much support you get.  And it's both.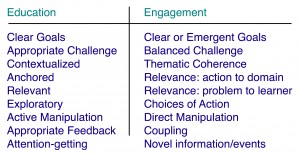 You there by exploiting the alignment between the elements of practice and engaging experiences. So just as the above diagram can represent either Czikszentmihalyi or Vygotsky, there's the alignment I highlighted in Engaging Learning  between the elements in greater elaboration. It's goal, context, challenge, meaningfulness, and more all aligned to create that subjective feeling. And in case you say "you're extending engagement to learning", I will note that Koster, in his book A Theory of Fun, explicitly tied what makes games work  is that it's about learning. So, yeah, that's the type of engagement I'm interested in, regardless.
One of the simple ways I like to characterize it (and it's not original with me), is 'hard fun'.  I think, if nothing else, that's a great heuristic. It may be like the famous quote about pornography: "you know it when you see it". Or maybe you can coin a concise definition. And you can attempt to quantify it through objective criteria like galvanic skin response or adrenalin levels. However, I'm perfectly happy to use subjective criteria. If people say they found it challenging but fun, I'm happy. If they say it's the best way they can see to learn it, my job is done.
I don't really yet have a good way to define engagement in a concise specification. Do you have a definition of engagement you like?  I'd welcome hearing it!