Every once in a while, I have had enough of some things, and want to point them out.  I do so not just to complain, but to talk about good principles that have implications beyond just the particular situation. So, here I go with a little whinging.
Services
Of late, when I call in for assistance, the phone system automatically asks me to verify some information. It can be an account number, or just to confirm some data like my house number. This is all good up until the point when I get connected to a live person, and they then ask me for that same data. Many times, as it's escalated ("yes, it's plugged in" and "yes, I've already tried rebooting it"), I get passed on to another person. And get asked for the same data  again.
When pushed, "it's our systems". And that's not good enough. What's the lesson?  You need your systems synched together. The employees need a performance ecosystem that's integrated, if you're going to be able to deliver a good customer experience. Reminded of the fact that Dominos is spending more money fighting to not have to be accessible than the estimate to actually make their system accessible!?!
This plays out in another way. So I'm having internet troubles. It's intermittent (admittedly, that make it hard to diagnose), and it's not disconnecting, it's just slowing  way down, and then going back to blazing fast.But it's creating hiccups for my conference calls and webinars. I'm paying a pretty penny for this.
So, they do some remote stuff to the modem and say call back if it's not better. And it's not. So they send a tech. Who says it's in the network, not the local connections and other techs will work on it, and I don't have to be present, and they work 24/7 and it should be fixed in a couple of days. And then, I get a call which I return and am told it'll be fixed by late this morning. And then it's not. So I call again, and first, the person doesn't seem to have access to the previous notes (which I'd made a point of), and asks me a bunch of questions. Which I've already answered previously in the same call. Then, they arrange to send a tech out! Isn't that the definition of insanity, trying the same thing and expecting a different outcome?
The problem here is the lack of coordination between the different elements. The latest phone person said that they had the notes from the previous tech, and that this one has different skills, but the previous person had told a different story. It's  that that concerns me; the lack of consistency shatters my already-fragile confidence in them.  They should have a good linked record (the ecosystem again), but be able to address obvious mismatches elegantly.
Products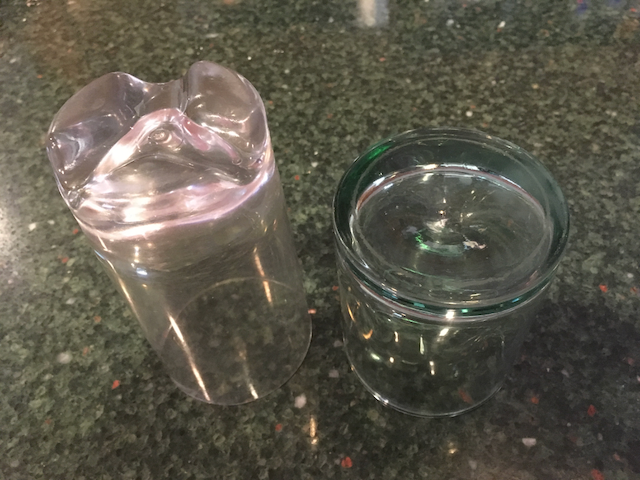 Ok, so this one's less obvious, but it's relevant. Here's my claim: I want products that aren't just dishwasher-safe, I want them dishwasher-smart!  What am I talking about?  Look at these two glasses. It may be hard to see, but the one on the left has a three-lobed groove in the bottom. While there's sufficient surface to stand steadily, it also drains. The one on the right, however, has a concavity in the bottom. So, when it goes in the dishwasher (or the dish drainer for that matter), water pools and it doesn't dry efficiently. WHY?
Look, you should be designing products so the affordances (yeah, I said the 'a' word ;) work  for consumers. I like my backup battery (thanks Nick and SealWorks) because it has a built-in cable!  You don't have to carry a separate one. This goes for learning experiences as well; make the desired behaviors obvious. Leave the challenges to the deliberate ones discriminating appropriate decisions from misconceived ones. And authoring tools should make it easy to do good pedagogy and difficult to do info dump and knowledge test! Ahem.
At core it's about aligning product and service design with how we think, work, and learn. It should be in the products we purchase, and in the products we use.  Heck, I can help if you want assistance in figuring this out, and baking it into your workflows. (I used to teach interface design, having had a Ph.D. advisor who is a guru thereof.). Do read Don Norman's  The Design of Everyday Things  if you're curious about any of this. It's one of those rare books that will truly change the way you look at the world. For the better.
Design, whether instructional or industrial or interface or anything else that touches people needs to  understand those people. Please ensure you do, and then use your powers for good.