On Twitter today was a question from an organization that, frankly, puzzled me. Further, I think it's important to understand  why this was a bad question. So here let me unpack several illustrative problems.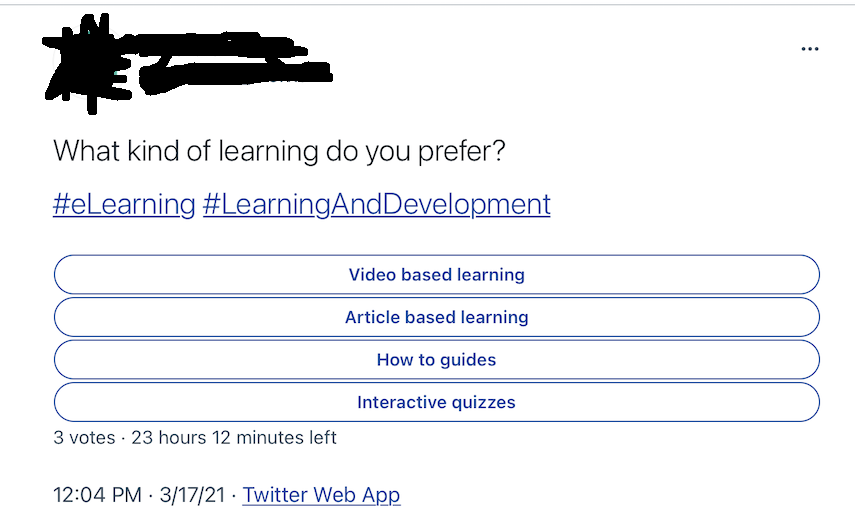 First, the question asks "What kind of learning do you prefer?" My initial response is: why would you ask that? What learners prefer has little to do with what outcomes you need to achieve.  We should design for the learning outcomes.
Then, there's the list of elements:
Video-based learning
Article-based learning
How to guides
Interactive quizzes
There are several problems with this list. First, why this subset? This isn't a full suite of alternatives. What about simulations, scenarios, or games? AR or VR? Podcasts? Why this selection?
Then, the options lack full definitions. What do they mean by 'video-based learning'?  Is it just a video, with no assessment? Is it really 'learning' then? Of course, if the '-based' means assessment as well, how is that separate from 'interactive quizzes'? Similarly for articles. What is included?
Yet guides and quizzes aren't '-based'. Are we assuming they're full learning solutions? That's questionable. A how-to guide, aka performance support, might yield an outcome, but it doesn't guarantee learning. There are lots of factors that would influence that. And interactive quizzes, without models and examples, would be a slow way to develop expertise.
Another problem is in the separation of the elements. So, for instance, a 'how to' guide could be a video or an article! There's the Youtube video I used to fix my dryer, or the step by step instructions I used to figure out how to run cables on a monitor. Likewise, interactive quizzes could include video or point to an article. These aren't mutually exclusive categories.
The point is that this is a bad question. It's already been taken down (I wasn't the only one to question it!). Still, there're lessons to be learned. (Maybe the most important is to ensure your social media marketing person has enough knowledge of learning not to do such silly things, but I can't assume that's the locus of the problem. It's just a hypothesis I've seen play out elsewhere. ;) While there are times it makes sense to ask provocative questions, there's also a reason to have conceptual clarity.  At least, that's my take, I welcome yours!