Here's a story about where performance support would've made a task much easier.
And, as always, the text.
---
The other day, I had a classic need for performance support. Of course, it didn't exist. So here's a cognitive story about when and where a job aid would help.
Our Bosch dishwasher stopped near the beginning of the cycle, and displayed an icon of a water tap. The goal was to get the dishwasher running again. What with the layer of undrained water, we figured there was some sort of problem with the drain, clogged or the pump broken. M'lady had cleaned the drain, but the icon persisted. What now? Of course we could call a service person, but trying to be handy and frugal (and safe), we wanted to find out if it was something I could deal with. So, off to the manual.
Well, in this case, since I didn't know where the manual was, I went online. I accessed the site and downloaded the manual. Only to find no guide to what the icons mean. What?!? This violates what we know about our brains, in this case that our memory is limited. The support section of the site did list the error codes, but numerically, not by icon.  So, I had an indication I couldn't map to a problem, let alone a  solution.  
This is a real flaw! If you're gonna use icons, provide a guide!  Don't assume they're interpretable. (This had happened once before with this same appliance, with an impenetrable icon and no clue.) As a result, I had to call the service line. That wait took awhile (with more people staying home, they're using their dishwashers more, and the appliances are therefore breaking down more). Once, the call dropped. The second time I had to stop because I had an upcoming call. The third time, however, I got through.
And a perfectly nice person listened, asked some questions, and then instructed me through a process. After hitting cancel (which automatically tries to drain everything and reset to zero) by simultaneously pressing two buttons linked by a line on the control panel, I heard noises in the sink like it was draining. After a minute, I was told to go ahead and open it up (yep, drained), turn it off and on, and then try running the cleaning cycle again. And, voila, it worked! (Yay!)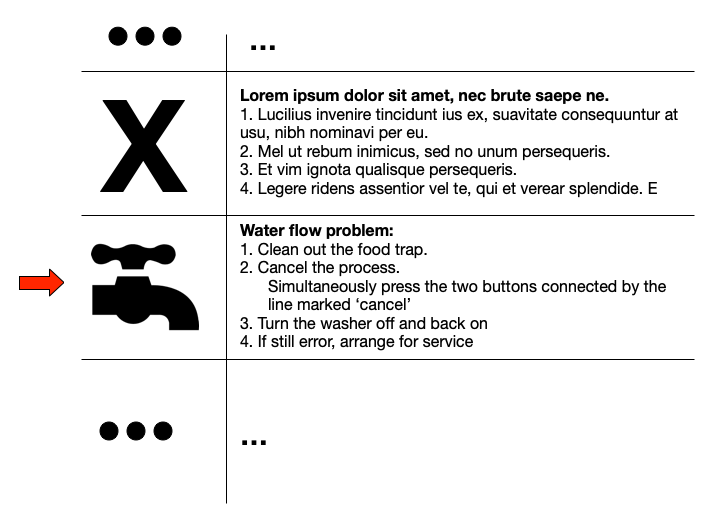 So, what's wrong with this picture? First of all, there should be a clear explanation of what the icon means, as indicated above. Second, it should be clearly tied to a process to address the problem, including intermediate steps.This is so common, I am quite boggled that the great engineers that made our (very good) dishwasher aren't complemented with a great technical communications team who write up a useful manual to support. It. Is. Just. Silly!
Note: this isn't a learning experience. It's just fine that I don't recall what the last time's icon was or what it meant, and maybe what this icon meant and what I should do. It should be infrequent enough that it'd be unreasonable for me to have to recall. Instead, I should be able to look it up. Put information in the world!  In the long term, this should save them buckets of money because most people could self help. Clearly, they've gone to numeric codes, but they could've just added in the associated icons, or given a mapping from icon to numeric code. Something to help folks who have the pics.  
This is just bad design, and it's so obvious how to ameliorate it. People will self-help many times, but only if they can!   Just as you shouldn't be creating a training course when a job aid will do, you can save a help call when a job aid can address most of the problems. Use performance support when it makes sense, and doing so comes from understanding how we actually think, work, and learn. When you do, you can design solutions that meet real needs. And that's what we want to do, no?