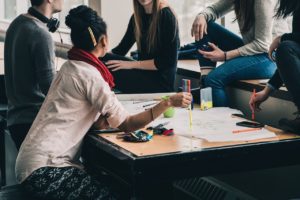 In a recent post, I talked about how expertise is compiled away, and the impact on designing learning and documentation. Someone, of course, asked  how do you then work with SMEs to get the necessary information. Connie Malamed, one of our recognized research translators, has recently written about getting tacit knowledge, but I also want to address the more usual process.  I thought I'd written about it somewhere, but I can't find it. So here are some thoughts on working with SMEs.
First, I've heard from several folks experienced in this that any one SME may not have both necessary elements. One element is to have a good model to guide the performance. The second elements is the ability to articulate that model. Their solution is to work with SMEs in groups. Guy Wallace (Eppic), Roger Schank (Socratic Arts), and Norman Bier (CMU) have all mentioned to me that they've found utility in getting SMEs together as a group and having that knowledge negotiation unpack the necessary learnings. They're all folks worth listening to. You have to manage the process right, of course, but if you can do it, it's useful.
I suggest that you also want several  different types of SMEs. You want not only the top performers, and theoretical experts, you also want just-past novices (also attributable to Guy) and supervisors. Theorists can give you models, while top performers can talk about the practical implications. Novices can let you know what they found hard to understand, and supervisors provide insight into what performers typically do wrong. All are helpful information for different parts of the learning.
Another trick I use is to focus on decisions. I argue that making better decisions will be more important to organizations than the ability to recite knowledge. SMEs  do have access to all the knowledge they learned, and it's easy for them to focus on that. That's where you get 'info dump' courses and bullet point-laden slides. By using decisions as a focus, you cut through the knowledge. "What decisions will they make differently/better as a result of this knowledge?" is a helpful question.
You can use questionnaires as well. Asking specifically about the elements: models, misconceptions, consequences, can be a good preliminary step before you actually talk to them. Or have a template for content for them to fill out. Any guidance and structure helps keep them focused.
Another preparatory step is to create a draft proposal of the information. You'll likely be getting a dump of PDFs and PPTs). Process that material, and make your first, best, guess. It's easier to critique than generate, so if you're willing to be wrong (and why not), you can have them shoot holes in what you did. You'll have focused on decisions (right?), and they'll fix it, but you'll have biased them for action.
Of course, you want to ensure you test for confirmation. You should circulate what you have learned, and get validation. You'll need to have clear objectives that operationalize your learnings. You then should prototype and test what you've developed and see if it actually changes the behavior in useful ways. Ensure that your focus actually leads to the necessary change.
There are other elements you want from SMEs, such as their personal interest. However, it's critical that you get them to focus on behavior change. It's not easy, but it's part of the job. Working with SMEs, correctly, is key to designing learning experiences that address real needs. These are my thoughts, what are yours?