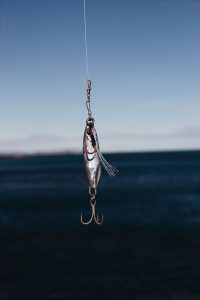 I've been promoting the importance of the emotional 'hook'. Which I was called out on, rightly. I freely admit that the phrase is less than fully accurate. So let's explore the issue of whether we're talking emotion, or motivation, or…
As context, one perspective from cognitive science is thinking of our ourselves as comprised of three components. One is cognitive, that is what we think and know. Which is malleable, as we can learn more! A second component is termed affective, that is who we are. Which isn't malleable; these are our fixed characteristics, certainly personality (e.g. OCEAN/HEXACO). Finally, there's our conative component. This is our intent: to learn, to act, and arguably what we value. 
This last bit, the conative, is what I suggest we neglect in our learning design. We address the cognitive, and there's little to do on the affective side, but we too often basically assume that the learner is ready for what we're presenting. Which I suggest is a mistake. 
There's considerable evidence that we perform better when we're engaged. When experiences are motivating, and anxiety is kept to a minimum, and our confidence is built, etc. Further, we can address these. We can help folks see the WIIFM, make it psychologically safe, and provide appropriate levels of challenge with useful feedback. (And we should!) However, too often we don't.
So I use the shorthand term 'emotion' to address this.  I use the term to separate from the cognitive in a shorthand way. The problem, of course, is whether anxiety and motivation are truly 'emotions'. Effectively, they're not. My stance, however, is that I can't be talking 'conative' to folks who aren't aware of that concept!
I also resist just talking about motivation. Anxiety is an issue. So too is confidence. John Keller' has his ARCS model (arguably the only ID theorist considering the conative aspect, though I don't know if he uses that term ;). His model incorporates gaining/maintaining Attention, manifesting the Relevance of what's being learned, building Confidence, and ensuring Satisfaction from the experience. Really, we want an umbrella term for these elements. 
There is the concept of engagement. However, it's been trivialized. Claims that 'click to see more' is more engaging, that points & leaderboards are engaging, etc. have undermined the term. So I avoid it to avoid getting mired in that morass. Instead, I think talking about emotion as a shorthand way to address the non-cognitive. Yet…
I was called out for talking about an 'emotional hook' by a very learned client. Rightly so. The question is, do we have a better term? Is there a more appropriate and yet still accessible way ta talk about this? Obviously, I haven't thought so as yet, but I want to keep learning. So if you've a better solution, please do let me know. (Feel free to also say that this approach is probably the only solution, at least for now.) Otherwise, I'll keep looking for a better approach than emotion, or motivation, or…
I'll be discussing 'emotion' in a session for the Learning Guild's LXD conference, coming up at the beginning of next month. I'm also presenting a two half-days pre-event online workshop on LXD overall, integrating emotion with science. I'll also explore 'engagement' in a full day face-to-face pre-con workshop at their DevLearn conference in October). Hope to see you at one of these!