My latest tome, Revolutionize Learning & Development: Performance and Innovation Strategy for the Information Age is out.  Well, sort of.  What I mean is that it's now available on Amazon for pre-order.  Actually, it's been for a while, but I wanted to wait until there was some there there, and now there's the 'look inside' stuff so you can see the cover, back cover (with endorsements!), table of contents, sample pages, and more.  Ok, so I'm excited!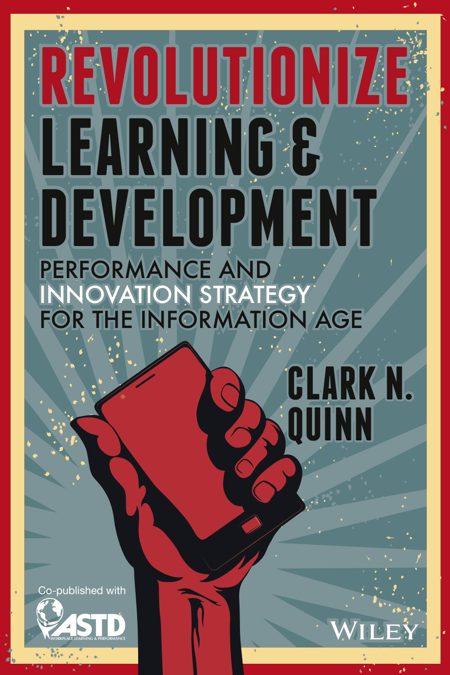 What I've tried to do is make the case for dragging L&D into the 21st Century, and then provide an onramp.  As I've been saying, my short take is that L&D isn't doing what it could and should be doing, and what it is doing, it is doing badly.  But I don't believe complaining alone is particularly helpful, so I'm trying to put in place what I think will help as well.  The major components are:
what's wrong (you can't change until you admit the problem :)
what we know about how we think, work, and learn that we aren't accounting for
what it would look like if we were doing it right
ways forward
By itself, it's not the whole answer, for several reasons. First, it can't be. I can't know all the different situations you face, so I can't have a roadmap forward for everyone. Instead, what I supposed you could think of is that it's a guidebook (stretching metaphors), showing suggestions that you'll have to sequence into your own path.  Second, we don't know all yet. We're still exploring many of these areas.  For example, culture change is not a recipe, it's a process.  Third, I'm not sure any one person can know all the answers in such a big field. So, fourth, to practice what I'm preaching, there should be a community pushing this, creating the answers together.
A couple of things on that last part, the first one is a request.  The community will need to be in place by the time the book is shipping.  The question is where to host it.  I don't intend to build a separate community for it on the book site, as there are plenty of places to do this.  Google groups, Yahoo groups, LinkedIn…the list goes on. It can't be proprietary (e.g. you have to be a paid member to play).  Ideally it'd have collaborative tools to create resources, but I reckon that can be accommodated via links.  What do you folks think would be a good choice?
The second part of the community bit is that I'm very grateful to many people who've helped or contributed.  Practitioner friends and colleagues provided the five case studies I've the pleasure to host.  Two pioneers shared their thoughts.  The folks at ASTD have been great collaborators in both helping me with resources, and in helping me get the message out.  A number of other friends and colleagues took the time to read an early version and write endorsements.  And I've learned together with so many of you by attending events together, hearing you speak, reading your writings, and having you provide feedback on my thoughts via talking or writing to me after hearing me speak or commenting on my scribblings here.
The book isn't perfect, because I have thought of a number of ways it could be improved since I provided the manuscript, but I have stuck to the mantra that at some point it's better out than still being polished. This book came from frustration that we can be doing so much better, and we're not. I didn't grow up thinking "I'm going to be a revolutionary", but I can't not see what I see and not say something.  We can be doing so much better than we are. And so I had to be willing to just get the word out, imperfect.  It wasn't (isn't) clear that I'm the best person to call this out, but someone needs to!
That said, I have worked really hard to have the right pieces in place.  I've collected and integrated what I think are the necessary frameworks, provided case studies and a workplace scenario, and some tools to work forward.   I have done my best to provide a short and cogent kickstart to moving forward.  
Just to let you know that I'm starting my push.  I'll be presenting on the book at ASTD's ICE conference, and doing some webinars. Bryan Austin of GameOn Learning interviewed me on my thoughts in this direction.  I do believe in the message, and that it at least needs to be heard.  I think it's really the necessary message for L&D (in it, you'll find out why I'm suggesting we need to shift to P&D!).  Forewarned!  I look forward to your feedback.