In thinking through how to design courses that lead to both engaging experiences and meaningful outcomes, I've been working on the component activities.  As part of that, I've been looking at elements such as pedagogy in pre-, in-, and post-class sessions so that there are  principled reasons behind the design.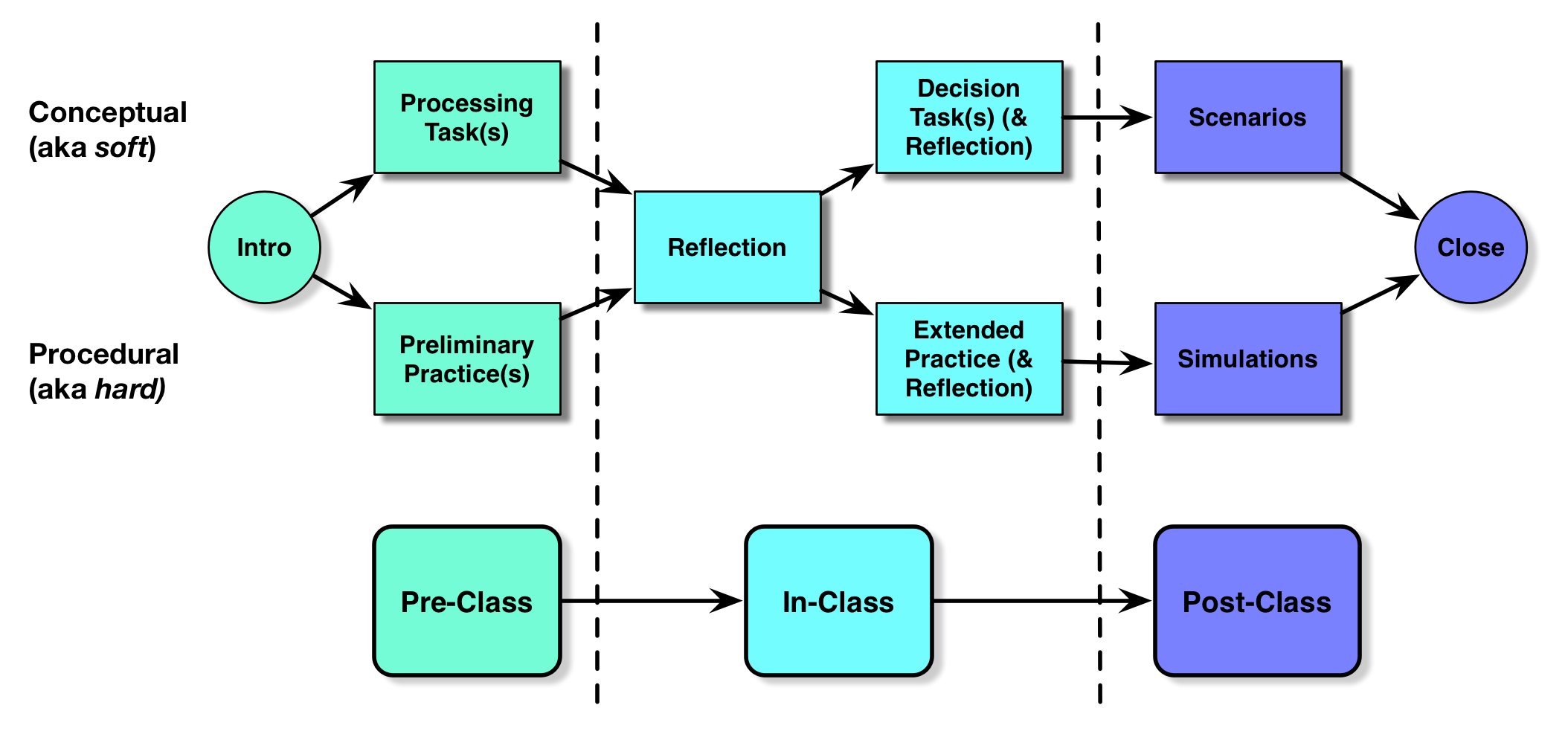 So, here I'm  looking at trying for guidance  to align what happens in all three sections.  In this  case, two major types of activities have emerged: more procedural activities, such as using equipment appropriately; and more conceptual activities such as making the right decisions of what to say and do.  These aren't clearly discriminated, but it's a coarse description.
Of course, there's an introduction that both emotionally and cognitively prepares the learner for the coming learning experience.
So for conceptual tasks, what we're looking to do is drive learning to content.  In typical  approaches, you'd be presenting conceptual information (e.g. 'click to see more') and maybe asking quiz questions.  Here, I'm looking to make the task of processing the information to generate  something,  whether a document, presentation, or whatever,  and that the processing is close to the way the information will be used.  So they might create a guide for decisions (e.g. a decision tree), or a checklist, or something that requires them to use the information. (And if the information doesn't support doing, it's probably not necessary.)  As support, in a recent conversation I heard that interviewed organizations said that making better decisions were the keys to better job performance.
Whereas in the procedural approach, we really want to give them practice in the task. It may be scaffolded, e.g. simplified, but it's the same  practice that they'll need to be able to perform after the learning experience. Ideally, they'll have to explore and use content resources to figure out how to do it appropriate, in a guided exploration sense, rather than just be given the steps.
In both  cases, models are key to helping them determine what needs to happen.  Also in both cases, an instructor should be reviewing their output. In the conceptual case, learners might get feedback on their output, and have a chance to revise their creation.  In the case of the practice, the experience is likely a simulation, and the learner should be getting feedback about their success.  In either case, the instructor has information about how the cohort is doing.  So…
…for in-class learning, the learners should be reflecting on their performances, and the instructor should be facilitating that at the beginning, using the information about what's working (and not).  Then there should be additional activities that the learners engage in that require them interacting with the material, processing (conceptual) or applying (procedural) it with each other and then with facilitated reflection.
Finally, the learners after class should be getting given elaborative activities.  In the case of the conceptual task, coming up with an elaborated version or some additional element that helps cement the learning would be valuable.  The practice or activity should get fleshed out to the point where the learner will be capable of appropriately acting after the learning experience, owing to sufficient practice and appropriate decontextualization. The goal is for retention over time and transfer to all appropriate situations.
Am I making sense here?