When we design learning activities (per the activity-based learning model), ideally we're looking to create an integration of a number of constraints around that assignment. I was looking to enumerate them, and (of course) I tried diagramming it.  Thought I'd share the first draft, and I welcome feedback!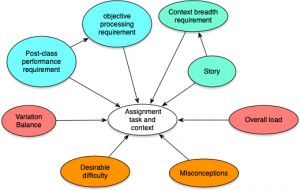 The goal is an assignment that includes the right type of processing. This must align with what they need to be able to do after the learning experience. Whether at work or in a subsequent class. Of course, that's factored into the objective for this learning activity (which is part of an overall sequence of learning).
Another constraint is making sure the setting is a context that helps establish the breadth of transfer. The choice should be sufficiently different from contexts seen in examples and other practices to facilitate abstracting the essential elements. And, of course, it's ideally in the form of a story that the learner's actions are contributing to (read: resolve). The right level of exaggeration could play an (unrepresented) role in that story.
We also need the challenge in the activity to be in the right range of difficulty for the learner. This is the integration of flow and learning to create meaningful engagement.  And we want to include ways in which learners typically go wrong (read: misconceptions). Learners need to be able to make the mistakes here so we're trapping and addressing them in the learning situation, not when it could matter.
Finally, we want to make sure there's enough variation across tasks. While some similarities benefit for both consistency and addressing the objective, variety can maintain interest. We need to strike that balance. Similarly, look at the overall workload: how much are we expecting, and is that appropriate given the other constraints outside this learning goal.
I think you can see that successfully integrating these is non-trivial, and I haven't even gotten into how to evaluate this, particularly to make it a part of an overall assessment. Yet, we know that multiple constraints help make the design easier (at least until you constrain yourself to an empty solution set ;).  This is probably still a mix of art and science, but by being explicit you're less likely to miss an element.
We want to align activities with the desired outcome, in the full context.  So, what am I missing?  Does this make sense?